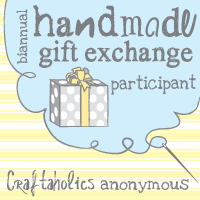 I was so busy with the giveaways I forgot to mention that I was participating in the summers
Handmade Gift Exchange
, put together by Linda of
Craftaholics Annonymous
! This was my first time participating and in a strange twist of events I ended up with 2 partners :) I hadn't heard from my first so Linda paired me up with another crafter, after which I heard back from my original partner. I didn't mind in the least and kept both of my awesome parters :)
The whole idea behind this event is that you get paired up with a new buddy somewhere in another part of the country. Then you get to know each other a bit and each partner makes and sends a gift to the other. It's so exciting to see all the amazing things that people have gifted to each other!
So without further ado....
One of my partners, Heather, lives in Cali and loves bright colors and rainbow colors. My first idea was a market bag, however I was having big issues with the pattern I'd chosen being incorrect in several spots so I ditched that plan and decided to make something she could use around the house. I came up with the idea to make her a set of coasters with some really awesome rainbow cotton I found. I personally am totally in love with these and almost shed a little tear as I sealed the envelope to go off to its new home! I plan on making myself a set as soon as I have some free time!
I hope she likes them!
My other partner was Wendy in Washington. She and I had something very important in common, we both love the color PURPLE! She also mentioned after browsing my shop and facebook page that she had a thing for owls and really liked my owl hats. Easy Peasy! I whipped her up and adult size owl hat :) I made it a white owl with purple and green (her second fave color) accents and I really like how it turned out. My pictures really stink because it was late and night with bad lighting.
I had so much fun with this, I can't wait until November to do it again!